Articles
Will KCR Realise the dream of Kasim Razvi?
Dt:12/12/22
Will KCR Realise the dream of Kasim Razvi?
Dr T H Chowdary*
Kasim Razvi was the Chief of Majlis Ittehadul Muslamin (MIM), a rabidly Islamist fascist organization. It raised a more than two lakhs volunteer corps Razakars. The MIM vowed to keep Nizam's Hyderabad State as an independent sovereign Islamic state when the paramountcy of the British lapses on 15 Aug 1947. He used to address huge rallies of Razakars and spew contempt and ridicule on the Indian Union and Hindus . Among his many saber-rattling speech, the one he made on April 8, 1948, he raved :
On April 8, 1948 in another violent speech Kasim Razvi raved: " Hyderabad will shortly recover the Ceded districts and the day is not far off when the waves of the Bay of Bengal will be washing the feet of our sovereign, who will not be called the Nizam of Hyderabad and Berar, but also of the Northern Sarkars." No wonder the MIM is now extending its activities to these areas.
On May 3, 1948, he ranted:
Muslims have always created a new geography for themselves. very soon the boundaries of Hyderabad will expand for beyond Delhi, and the Asafia Flag will fly over Delhi. Yes, I am seeing the Nizam (Asafe-Sabia) marching towards Delhi. The Owaisi' grandfather Abdul Wahid Owaisi; Father Salahuddin Owiasi and grandson Asaduddin Owaisi
2. Have not only revived Kasim Razvi times MIM but expanded it as AIMIM – All India MIM presumably to realize Kasim Razvi's dream of flying the Asafia flag over the Red Fort in Delhi. He party has been fielding its members for elections to legislatures in West Bengal Bihar, UP, Gujarat Maharashtra, Karnataka, Tamilnadu and AP besides Telangana.
3. Now Sri K. Chandra Sekhara Rao popularly known as KCR is shaping into another Kasim Razvi. His party Telangana Rashtra Samiti (TRS) has been in unannounced but widely known alliance with Owaisi's AIMIM. KCR , like Razvi has declared war on the Union Government ed by BJP's Sri Narendra Modi. Like Kasim Razvi and the Owaisis, KCR has set his sights on Delhi. Like Niza state confined MIM was extended as AMIM, the Telangana Rashtra Samithi TRS is expanded as Bharat Rshtra Samithi, BRS. KCR is setting up BRS office in Delhi and flying his flag there; like Razvi's Razakars, KCR's BRS men are led by him, marching on to Delhi. His daughter put the Vijaya Tilakam on the father's forehead ( See in the picture Indian Express 10/12/22). 'The BRS flag (like the Asafia flag of Kasim Razvi) will be hoisted at eh Red Fort". The TRS men hailed KCR as "Telangana Jaati Pita" i.e Father of Telangana nation.
Daughter Kavitha applies Vijaya Thilakam to Father KCR on the latter's launch of BRS on Friday, 9 Dec 2022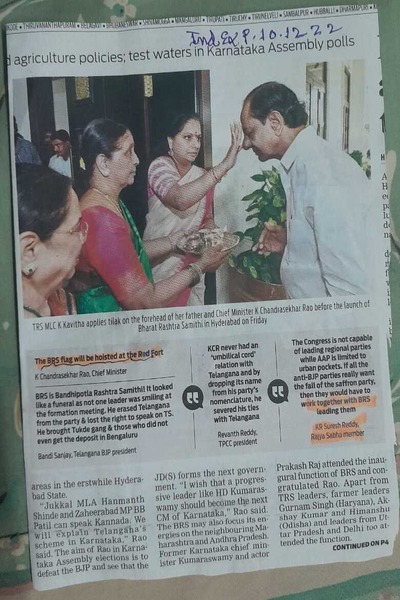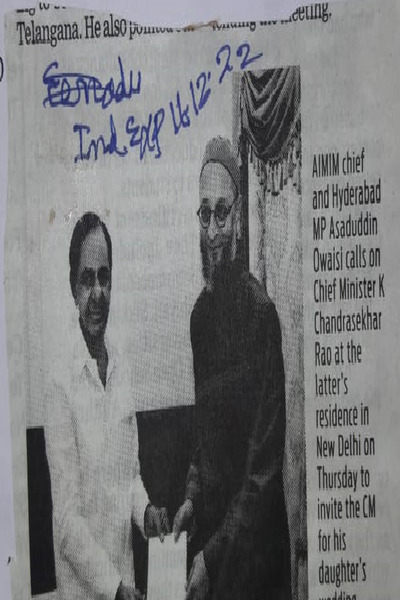 4. KCR's BRS's first foray outside Telangana is into former Nizam's territory in Karnataka (Bidar, Kalaburugi, Yadagiri, Raichur, Yadagiri, ……) . He will be in alliance not only with AMIM but also Deve Gauda's / Kumara Swami's Janata Dal ( secular) and then Marathwada and so on.
5. Kasim Razvi challenged the Indian Union in 1946-48. KCR challenges BJP-led Union government . Prominent Muslims from Marathwada (Nanded and Latur) are calling upon KCR inviting him to tour the area and launch BRS there. His Ministers are already scouting. Prominent Muslims from Marathwada are calling upon KCR inviting him to tour the area an d launch BRS there. His ministers are already scouting. Watch out for the results.